At-Home vs. Professional Teeth Whitening
April 19, 2021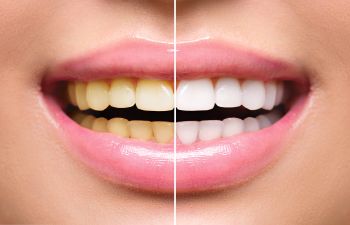 Whitening your teeth is a great way to help your smile look healthier, younger, and more attractive. In fact, we frequently recommend teeth whitening treatments before you initiate any other type of cosmetic procedures (such as veneers, bonding, porcelain crowns, etc.) That way we can match the color of your new restoration to a brighter shade.
When it comes to whitening your teeth, you generally have two different options – purchasing a product online or at the store, or having your teeth professionally whitened by your dentist.
Pros and Cons of Commercial Whitening
Commercial teeth whitening products are designed to be safe enough for just about anyone to use. They use gentle ingredients at lower concentrations that can lift lighter stains after a couple of weeks of use.
On the other hand, the application systems tend to be generic, which can lead to uneven whitening as well as gum irritation. You also won't see as strong of results as something available directly from your dentist (sort of like you would with an over-the-counter medication vs. a prescription-strength drug.)
Professional Teeth Whitening
When you whiten your teeth with a dentist's help, you have access to safe, better coverage, plus a more concentrated product that can whiten your teeth by several more shades. If you're using a take-home professional system, you can keep those trays for years and only need the occasional refill of gel from the dentist's office (making it far more cost-effective!)
If you want the best whitening in the least time, and plan to invest wisely, a professional system is the best choice.
Contact Dental Care Center at Kennestone today to reserve a teeth whitening consultation.
Posted on behalf of Dental Care Center at Kennestone