Children's Dentistry Services
July 13, 2020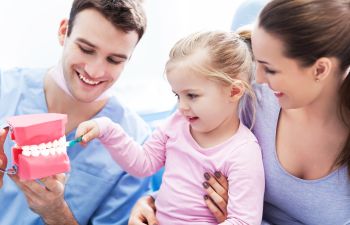 Are you looking for a pediatric dentist in Marietta? Dental Care Center at Kennestone offers quality family and children's dentistry in one location. So instead of bringing everyone in your household to separate providers, our general and family practice can see them in one place!
Dental Checkups for Kids
With early preventative care from a young age, you can help your child enjoy healthy teeth for life. The key is to:
● Form good oral hygiene habits from a young age
● Intercept dental issues as early as possible
● Minimize dental anxiety through early, positive experiences
● Provide minimally-invasive restorations as needed
● Incorporate prevention-based strategies like sealants and fluoride
Our family-friendly dental team sees children of all ages. It's best to plan for an exam and checkup every six months. That way we can intercept any dental issues before they become complex or painful. By reducing the chances of tooth pain, your child can experience dental care in a positive and relaxing manner.
Partnering with Parents
As your family dentist, we make it a mission to equip parents and caregivers with the information they need to enhance their child's oral health. From reviewing age-appropriate brushing/flossing techniques to giving up a pacifier or thumb-sucking, early choices significantly impact the way your child's oral anatomy and tooth patterns develop for years to come.
We recommend that every child have a dental checkup by the time their first teeth come in, but no later than 2 years of age. The earlier children have access to preventative pediatric dentistry, the better chance their smile has at success.
Looking for a new family or children's dentist in Marietta? Call Dental Care Center at Kennestone today!
Posted on behalf of Dental Care Center at Kennestone