Common Emergency Dental Treatments | Marietta
April 10, 2020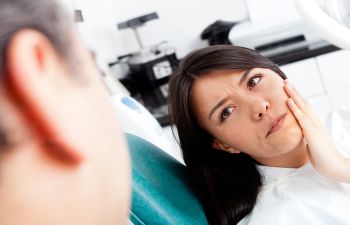 At Dental Care at Kennestone, our Marietta dental team is currently practicing "social distancing" due to the COVID-19 pandemic. However, we're still available to provide essential care services such as same-day emergency treatments.
But what warrants itself as a dental emergency? Some of the most common scenarios where we might need to see you include examples like:
Knocked-Out Teeth
Avulsed (knocked out) teeth should be reinserted if at all possible. But don't force it. If you see visible debris you can gently rinse the tooth off, but do not scrub it!
A Chipped Tooth
Fractured teeth can be mild enough to not require treatment, or so severe that we'll want to try bonding the fragment back into place. For the best results, you need to store the chipped portion in liquid and get it to our office within the next hour or two.
Abscessed Teeth
Is there visible swelling on your gums or pus that's draining from a tooth? Rinse with warm salt water, take some ibuprofen, and then call our office to arrange endodontic therapy as soon as things settle down.
Broken Dental Work
Whether you cracked a denture, or your dental crown fell off, it can ruin your day! We encourage you to call our office immediately to discuss the next steps.
Tooth Pain
Moderate to severe tooth pain may require something like an extraction or root canal, depending on what's wrong. But at a time like this, an antibiotic and anti-inflammatory may be your best solution.
Looking for an emergency dentist in Marietta? Call Dental Care at Kennestone today for assistance. If it's after hours, leave a message and someone will be in contact with you as soon as possible.
Posted on behalf of Dental Care Center at Kennestone