Dry Mouth Over the Holidays?
November 16, 2020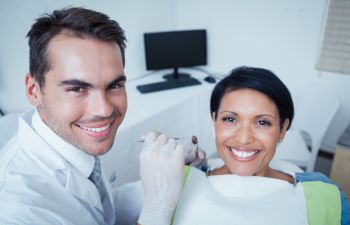 Xerostomia — better known as "dry mouth" — can lead to irritating side-effects like bad breath and an increased risk of tooth decay. It's caused by a lack of saliva flow and can leave you constantly feeling the urge to sip on something.
If dry mouth tends to flare up more this time of the year, here are a few reasons why that may be the case:
Adult Beverages — Even if holiday parties are "virtual" this year, you may be enjoying the occasional eggnog, spiked hot chocolate, or other adult beverages. Alcohol is a natural drying agent, which can leave your mouth feeling dry and sticky hours after you drink it. That's why mouthwash with alcohol in it isn't good for people with dry mouth.
Decongestants, Antihistamines, and Prescription Drugs — If you get seasonal allergies or are treating a head cold, some of the medications you're taking are probably known for causing dry mouth! Just look at the label. Talk to your doctor about alternative drugs you can take if the xerostomia is severe.
Not Drinking Enough Water — People tend to drink less water over the winter when it's cold (but more during the hot summer months). If you're not staying hydrated, your saliva flow will naturally decrease on its own.
Keep Your Mouth Moisturized
Make a point to sip on water throughout the day. If xerostomia symptoms are consistent, try picking up a mouthwash or spray that's specially formulated for dry mouth. Although it will feel a little slimy, it helps to keep your mouth lubricated.
Don't let dry mouth go unattended; it can lead to serious dental issues if it becomes a chronic problem. Request an exam at Dental Care Center at Kennestone for professional advice!
Posted on behalf of Dental Care Center at Kennestone