Four Tooth Replacement Options in Marietta, Georgia
November 21, 2019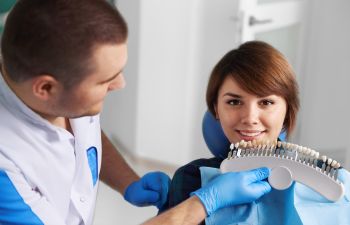 Whether you have one tooth, several missing teeth, or no teeth left at all, you should know all of your tooth replacement options in Marietta, Georgia. Depending on your situation, you may want to choose from the following common treatments:
Dental Bridge
A dental bridge is a connection of three or more crowns that fit over the teeth adjacent to the area of your missing tooth. Bridges are permanently cemented in place and last a long time, but you'll need to take extra care in keeping it healthy. The natural teeth underneath a bridge can decay, meaning that you'll potentially have to get it removed and replaced, adding to overall costs in the future.
Dental Implant
A dental implant costs about as much as a bridge and doesn't involve other natural teeth.  An implant stands alone and is held in place by your bone. Attached to the implant is a crown (artificial tooth) that's custom made to blend in with your adjacent teeth.  Dental implants have the potential to last a lifetime, but in order to get the most out of yours you'll have to ensure that you don't get gum disease; excellent oral hygiene is a must.
Partial Denture
For those that are missing several teeth, a partial denture is the most economical way to go.  This removable device spans the entire arch of your mouth and stays in place with little hooks that hang on your natural teeth.  On top of the framework, acrylic teeth fill in the spaces where teeth are missing.
Full Denture
If you're missing all of your teeth, or the ones you have left are bad then a full denture where we replace all of your missing teeth with a single appliance, may be the solution for you.  One of the downfalls of a denture, especially a lower one it that it can be loose. To help with that, you can get some implants placed which will give the denture something to anchor to.
Tooth Replacement in Marietta
To learn more about your tooth replacement options and discuss which one is best for you call Dental Care Center at Kennestone of Marietta, Georgia.  We look forward to meeting you!
Posted on behalf of Dental Care Center at Kennestone