How to Clean Around Your Dental Crown or Bridge
August 23, 2022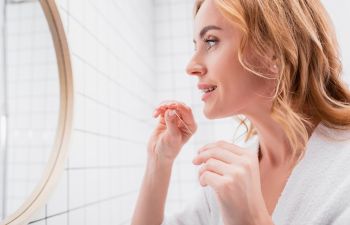 Taking care of your teeth at home is pretty straightforward: brush twice a day, and don't forget to floss! If you have a dental restoration like a crown or a bridge, you may wonder if it's still that simple. The truth is, it is! There will be one or two new techniques that are added to your brushing routine, but they will help make cleaning around the crown or bridge completely doable.
How do I Keep My Crown or Bridge Clean?
Not much changes when you have a crown or bridge. You should still be brushing twice a day and flossing at least once daily. We recommend you buy a softer to medium bristle toothbrush and use a non-abrasive toothpaste. This will help you to avoid scratching the surface of the crown/bridge or irritating the gumlines around it.
There are additional tools that you can use to help you floss to keep your gums nice and healthy. You can use a floss threader to help guide your floss around and under the bridge, above your gums, and between the supporting teeth. You can also use super floss, which is a bit more spongy and has a firm end which will eliminate the need for a floss threader. Additionally, an interdental brush may be small enough to get under the bridge and around the crowns and is effective in removing any plaque build-up. And finally, a water flosser is an easy and helpful option in removing any food particles that are left behind.
Sticking to a routine at home will help to keep your crown and bridge, as well as the supporting teeth, healthy for as long as possible.
Call Dental Care Center at Kennestone today for all your dental needs!
Posted on behalf of Dental Care Center at Kennestone