Dental Implants Versus Dental Bridges
March 23, 2022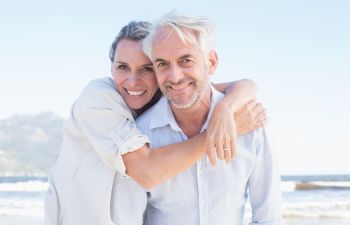 Dental implants and bridges are both popular tooth replacement options. Each has its own unique benefits and are both great choices when it comes to restoring your smile. So, which one is right for you?
Dental Implants
Dental implants are biocompatible tooth replacements that are inserted into your bone. They last for life and are non-invasive to other teeth.  Dental implants are a great option for anyone with missing teeth, regardless of how many.
Benefits of Dental Implants Include:
Feel like natural teeth
Improved speech and chewing ability
Designed to last for life
Non-invasive to other teeth
Fixed Dental Bridges
Bridges are attached to natural teeth on either side of your missing tooth, filing in the open space. Bridges serve a dual purpose of crowning the supporting teeth, making them beneficial if those teeth are structurally compromised.
Benefits of Bridges:
Can last many years with proper care
Initially more affordable than implants
Can replace 1-2 teeth
Dental Implants or Bridges: Which option is best for you?
Dental implants and bridges are both great options for replacing missing teeth. It's important to consult with us to see which option is best. In most cases, implants are preferred since they are minimally-invasive and provide the best long-term return on investment.
Contact Dental Care Center at Kennestone
Dental Care Center at Kennestone offers both dental implants and bridges for our patients with missing teeth. We know that each person has different needs and we want to provide the best possible solution for every individual.
Feel free to call us today to schedule a consultation to see which tooth replacement option is best for your smile.
Posted on behalf of Dental Care Center at Kennestone