Is it Possible to Reverse Tooth Decay?
October 19, 2020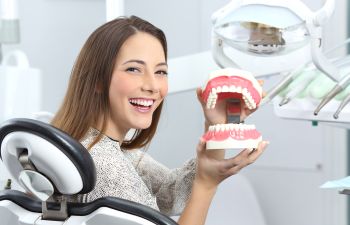 If you've browsed the internet long enough (particularly websites like Pinterest or YouTube) there's a good chance you've seen people claim to offer advice on DIY cavity treatments.
Unfortunately, cavity treatment at home is not something that you can actually do. Once tooth decay creates a physical hole in your tooth, the only way to repair the carious lesion is to have it cleaned out and filled by a dentist.
But — there's always a but, isn't there — there is a way to reverse tooth decay if it's still in the earliest stage of development. This phase of cavity formation is known as "demineralization."
Demineralization occurs when plaque and acids begin to etch away at the outermost layer of enamel. That specific area of enamel starts to lose its density. Often times, it turns a chalky-white color or may be sensitive to temperature changes. Should the acidic bacteria stay on the tooth any longer, a cavity may finally rupture through the enamel and into the tooth.
Here's where the good news comes in. Assuming you catch the decay cycle in the early "demineralization" stage, you can potentially re-calcify it and harden the enamel back up again. Essentially you are halting the decay process.
Remineralization requires fluoride in that area of your tooth. Just like calcium, fluoride is a natural mineral. When it affixes itself to your enamel structure, the tooth becomes denser and more resistant to decay.
For best results, a topical fluoride varnish should be applied by our Kennestone dental team. We can also prescribe home fluoride to use, if necessary.
Are you at a high risk for tooth decay? Schedule a checkup at Dental Care Center at Kennestone today.
Posted on behalf of Dental Care Center at Kennestone