Do You Know the Difference Between Your Dental Hygienist and Dental Assistant?
April 24, 2018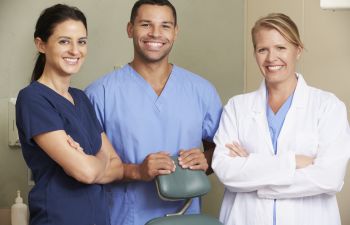 You have no trouble recognizing the dentist when you enter a dental office, but it's easy to confuse some of the other staff members.
Did you know that there is a difference between hygienists and assistants?
The roles of both hygienist and assistant are unique and important to the successful functioning of any dental practice.
Who Is the Dental Assistant?
An assistant's main role is to be a dentist's second set of hands. The assistant helps during procedures and maintains clear visibility when the dentist is working. They usually prepare all of the instruments and see to it that the dentist has everything he or she needs.
Assistants are also responsible disinfecting dental treatment areas and sterilization. They may take your x-rays, escort you to and from the waiting room, and help calm you if you're nervous during treatment. If you have a question about the procedure, your assistant is a great person to ask!
A Different Role for Dental Hygienists
Hygienists are the ones you probably spend the most time with. It's the hygienist who cleans and polishes your teeth (and "lectures" you on flossing when you come in for a dental cleaning!)
Dental hygienists aren't out to make you feel bad about your home hygiene routine, but rather assist you in prevention focused practices that limit the bacteria which would otherwise lead to decay and gum disease. From screening for oral pathology to showing you different methods of dental care, a hygienist's goal is to promote optimal oral health before disease strikes.
Preventative and Restorative Dental Care in Marietta
Whether you need a filling or cleaning, you can count on our dental assistants and dental hygienists to be at your side. Get to know our experienced and caring dental team right here at Dental Care Center at Kennestone. We're accepting new patients so call today to make your appointment!
Posted on behalf of Dental Care Center at Kennestone