What Does It Mean When Adult Teeth Feel Loose?
August 28, 2018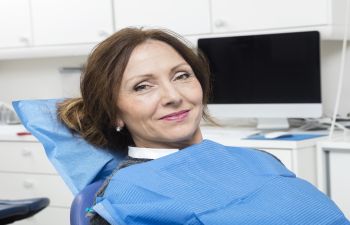 Kids can pull some pretty bizarre tricks with their baby teeth when they start to loosen. But adult teeth are supposed to stay with you for life. So what does it mean if you sense that some of your permanent teeth are getting a bit wiggly?
What's Normal Wiggling?
Your teeth should naturally "give" a little when you push on them. Tooth roots aren't directly fused to the bone in your jaw. There's a thin layer of cushioning gum tissue and an interlaced network of ligament fibers between your tooth and the socket.
These tissues absorb some of the impact when you bite and chew. They also nourish the tooth and keep it alive. So if you notice that you can ever so slightly wiggle a tooth when you press firmly on it and have no other symptoms, then that's completely normal.
What's Unhealthy Movement?
Healthy teeth should only budge less than a millimeter when pressed. If your tooth has more give than that or you notice it getting looser with time, then it's a red flag.
You also shouldn't be able to push a tooth in and out of alignment. This suggests that the ligaments holding it in place are loosening up.
The Cause of Loose Teeth
Teeth can loosen over time as the ligaments and bone holding them in place start to break down. This is the result of moderate to severe gum disease. What starts as simple gingivitis can advance to a serious condition that causes tooth loss.
Treatment for Loose Teeth in Marietta
Are your teeth starting to feel loose? Contact Dental Care Center at Kennestone to set up a gum health consultation with one of our experienced dentists.
Posted on behalf of Dental Care Center at Kennestone