Protect Your Smile With Little Work
January 29, 2018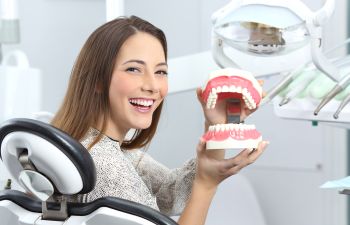 Your life is busier than ever and finding ways to get things done easily and efficiently are often top priorities. It's not that you are lazy or that you do not want to give your best, it is that you are stretched thin and anything that makes life less burdensome is often a huge plus. If you often neglect your oral health because you are too tired in the evenings to floss, your schedule is too full and you cancel dental appointments, or life is just overwhelming and you admit that you often forget to even brush your teeth – keep reading.
Dental sealants have been used for decades to protect the back teeth, where cavities most frequently occur, without any effort. This prevention procedure truly offers a huge benefit with no more exertion than you visiting the dentist. Of course, it is still important that you do take care of your smile at home
Dental sealants are painless applications that are placed on the back teeth, the pre-molars and molars, to create a barrier that seals out harm. These back teeth are very rough because they are made up of deep grooves and pits. The pre-molars and molars were designed purposefully to help you chew your foods into small portions for swallowing and digesting, yet they are difficult to clean thoroughly. Every time you eat or drink anything other than water, tiny particles become trapped in the grooves and pits of the back teeth. Even with frequent brushing, some bacteria can become trapped and will begin producing acids to help break the particles down. These acids eat through whatever is in their path, including your tooth enamel; creating cavities and causing decay in their wake.
Dental sealants are plastic coatings that are painted on to the pre-molars and molars after the teeth have been thoroughly cleaned and dried. After application, the sealants are hardened with a special curing light that allows the sealants to bond with the tooth enamel. Once in place, dental sealants can last 2-4 years and provide adequate protection against decay.
At Dental Care Center at Kennestone, we want to help you maintain a healthy smile. Flossing, brushing, and regular dental visits are important to your smile. You can also protect your smile with little work in between visits with dental sealants. Call today to schedule an appointment.
Posted on behalf of Dental Care Center at Kennestone