Your Six Best Treatment Options for a Chipped Tooth
September 26, 2018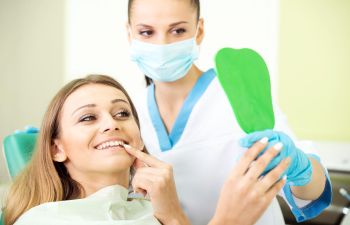 Chipping or cracking a tooth can be terrifying. Fortunately, Marietta chipped tooth repair includes a variety of treatment options for you to choose from.
1. Dental Bonding
The first and most common solution for chipped teeth is some simple dental bonding. This is a procedure where our Marietta restorative dentist patches a small amount of tooth-colored filling material to your tooth to fill in the empty space. There are no drills or anesthesia involved.
2. Composite Dental Fillings
You will likely need a filling if your tooth chipped due to a cavity. Fillings replace the structure lost to decay and tend to last longer than bonding.
3. Dental Veneers
A porcelain veneer is an excellent choice if the chip is in a front tooth. Veneers provide a "false front" for teeth so that you can smile with confidence.
4. Inlays and Onlays
What if the chip in your tooth is too big for a filling and too small for a crown? Get an inlay or onlay. These tooth-colored restorations come in solid pieces just like caps, except they only replace the broken part of your tooth instead of covering all of it.
5. Dental Crowns
For those teeth that are missing large areas, a dental crown is usually the way to go. Crowns enhance the strength and beauty of chipped teeth.
6. Root Canals
A root canal removes the nerve of a tooth to prevent it from becoming infected. You may only need this procedure if the damage was deep enough to compromise the nerve.
Do you have a chipped tooth? Contact Dental Care Center at Kennestone today to schedule a checkup and learn about your treatment options.
Posted on behalf of Dental Care Center at Kennestone