Three Great Ways to Clean Your Dental Bridge
March 9, 2021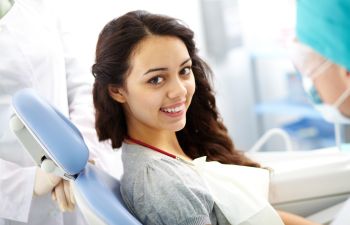 Dental bridges can last for years. The key is to clean them thoroughly every day, to keep the supporting teeth as healthy as possible. But since toothbrushes don't reach underneath your bridge, you'll need to find other ways to clean between the restoration and your gum tissues.
If using traditional dental floss is challenging, here are three other options you'll want to consider.
Water Flosser
Water flossers reach everywhere, including places that flossing doesn't. Simply trace along your bridge and underneath to flush out food debris and plaque. Although they're a little messy at first, water flossers are perfect for tight spaces and fixed appliances. You can use them anywhere, whether you have gum disease, braces, or anything else.
"Super" Floss (Tufted Floss)
Super floss starts out like a thin piece of floss with a hard tip that's easy to guide into tight spaces. From there, it tufts out into a thicker yarn-like texture. Thick floss may not work well between tight teeth, but it's certainly helpful for cleaning underneath fixed dental bridges. This method will be the one that's most similar to using traditional floss.
Proxy Brush
Tufted proxy brushes (also called interproximal brushes or proxa brushes) work great for cleaning under bridges if there's a small gap in that space. Simply glide the brush underneath and clean against each supporting tooth, sliding it back and forth under the bridge as well.
Checkups With Our Kennestone Dentist
Are you due for a dental cleaning? Our hygienists can let you know if your current method is reaching all of the spaces it needs to. Call Dental Care Center at Kennestone today to schedule your six-month checkup.
Posted on behalf of Dental Care Center at Kennestone