TMJ Symptoms? Treatment Options Available
January 25, 2022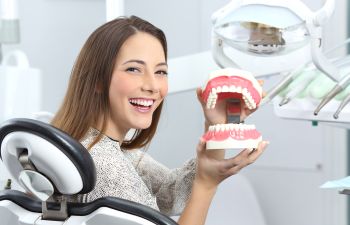 Temporomandibular joint (TMJ) disorder, or TMD/TMJD, is a painful condition that causes jaw pain, headaches, joint stiffness, and difficulty eating. But TMJ treatment is often misunderstood. The good news is that experts agree most effective TMJ therapies should be non-surgical in nature.
At Dental Care Center at Kennestone, our Marietta dentist offers effective TMJ pain relief without invasive therapies.
Understand Why Your TMJ Hurts
The first step in treating TMJ pain symptoms is understanding your triggers. Why does your jaw hurt? Are you grinding your teeth at night? Clenching during the day because of work-related stress? Are your teeth misaligned, causing you to adjust the way you're chewing during every meal? Or perhaps you ate firmer food that required heavy chewing, such as beef jerky.
Being aware of what's inducing your TMJ pain is the first step in treating (or managing) symptoms.
Bite Splints and Mouthguards
One of the most effective ways to manage TMJ symptoms is with a professionally-fitted oral appliance, such as a mouthguard or splint. These dental prosthetics naturally place your jaw into a resting position, preventing the joint from engaging and straining the muscles around it. In turn, your TMJ pain dissipates because your joint isn't overworking itself.
Effective oral appliances for TMJ need to be fitted by your Marietta dentist. Otherwise, you could be doing more harm than good. In some situations, symptoms could actually get worse. But with the right splint, you'll see results in just a few days.
Non-Surgical TMJ Treatment in Marietta
Are you experiencing TMJ pain, headaches, or clicking/popping when you open and close your mouth? Contact Dental Care Center at Kennestone today to reserve an exam with our Marietta dentist.
Posted on behalf of Dental Care Center at Kennestone