Veneers vs. Clear Aligners: Enhancing Your Smile
April 10, 2023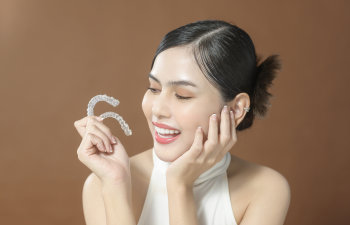 Marietta cosmetic dentistry helps you feel more confident about your smile. Whether you want to smile more around family or make a great first impression, dental veneers or clear aligners can both be effective ways to boost your smile's appearance.
How can you decide which is best for you?
Clear Aligners
Clear aligners are a type of "invisible" orthodontic treatment that use a series of clear, removable plastic trays to gradually move teeth into their desired position. They are an alternative to traditional metal braces and offer a more discreet and comfortable option for straightening teeth that are crooked, rotated, or have gaps between them.
Dental Veneers
Porcelain veneers are thin, custom-made shells that are bonded to the front surface of teeth to improve their appearance. They can be used to correct a variety of cosmetic dental issues, such as discoloration, misshaped enamel, and even crowding or gaps between teeth. Porcelain veneers are durable and long-lasting and can provide a natural-looking, beautiful smile.
Which is Right for Me?
Dental Care Center at Kennestone offers complete cosmetic dental options for adults in Marietta. But choosing between clear aligners and dental veneers can be a tough choice to make. Especially since both are effective at addressing a key element of aesthetics: the symmetry of your smile.
When you visit with our Marietta dentists, we'll assess how your teeth bite together as well as the shape and position of each tooth. From there, we'll discuss the advantages of choosing veneers over clear aligners or vice versa.
To learn more about our cosmetic treatments or for a no-obligation custom treatment plan, call Dental Care Center at Kennestone today.
Posted on behalf of Dental Care Center at Kennestone