Warning Signs of Oral Cancer
April 20, 2022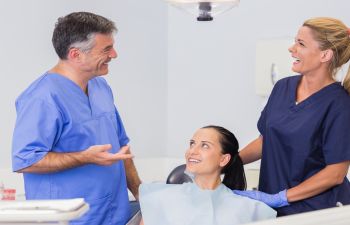 Oral cancer is one of the most common forms of cancer, affecting tens of thousands of Americans every year, including residents of Marietta, Georgia.
What Are Some Signs and Symptoms of Oral Cancer?
If you notice any of the following on your tongue, inside of your cheeks, throat, roof of mouth, floor of your mouth, or gums, then you should see a dentist to get checked for oral cancer.
Sores and ulcers that don't heal
Red or white patches
A sore throat or difficulty swallowing
Your voice is hoarse for no other apparent reason
Chronic bad breath
Lumps in your neck (swollen lymph nodes)
A biopsy of the area may be necessary to determine if in fact, it's oral cancer or something to be concerned about.
Preventing Oral Cancer
To help lower your risk of developing oral cancer you should:
Avoid smoking or using tobacco products
Get vaccinated for HPV
Use an SPF lip balm
Only drink alcohol in moderation
Oral Cancer Checkups
Did you know that every time you visit the dentist for a professional cleaning and the dentist is looking in your mouth for cavities, we're also checking for signs of oral cancer?
We also have special tools which can help us identify precancerous tissues before they're more pronounced.
Get Screened For Oral Cancer Today
Don't be a victim of oral cancer. Learn to spot the warning signs, avoid things that can cause this disease, and visit the Marietta dentist at Dental Care Center at Kennestone regularly for checkups. When caught as early as possible, most oral cancer can be treated. Call today to reserve an exam.
Posted on behalf of Dental Care Center at Kennestone