What to do if You Chip a Tooth
February 28, 2023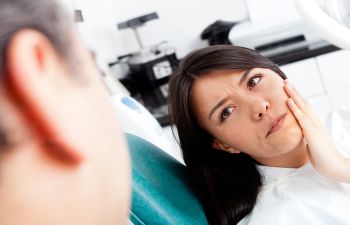 At the Dental Care Center at Kennestone in Marietta, we understand that chipping a tooth can be a painful and stressful experience. If you find yourself in this situation, it's important to know what steps to take to minimize any further damage. Here's what to do if you or your child chip a tooth:
1. Locate the tooth fragment
If you can find the broken piece of your tooth, do so. Sometimes it's possible for us to bond the tooth back together, depending on the size of the fracture.
2. Store the broken tooth properly
To prevent the broken piece from drying out, store it in a cup of milk or salt water. Contact solution works well too. By keeping it moist, there's a better chance that we can bond it back together.
3. Avoid chewing on that tooth
Try to avoid chewing on the side of your mouth where the chipped tooth is located. If possible, don't eat at all until you get to our office.
4. Call our office
Call the Dental Care Center at Kennestone as soon as possible. Our experienced team of dental professionals will work with you to schedule an appointment and determine the best course of action. If the chip is small, you may not need to be seen right away, whereas severe fractures may require immediate treatment.
If you have chipped a tooth, don't wait – make an appointment with Dental Care Center at Kennestone in Marietta right away. Our team of experienced dental professionals is here to help you get back to smiling with confidence. Don't let a chipped tooth hold you back.
Posted on behalf of Dental Care Center at Kennestone