What's Causing My Bad Breath?
July 27, 2023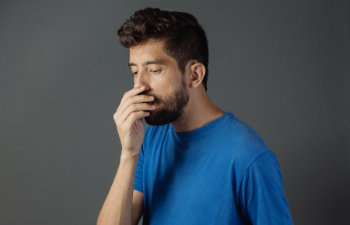 Bad breath, also known as halitosis, is a common concern that can have a significant impact on your confidence and social interactions. Understanding the causes of bad breath is the first step towards addressing the issue.
At Dental Care Center in Kennestone, Marietta, GA, our experienced dentist can discreetly help you identify and resolve the root causes of your bad breath symptoms. Together, we can address the underlying causes and set you on the path to a more confident smile.
Reasons Your Breath Might Smell Bad
Poor Oral Hygiene: Inadequate brushing and flossing can lead to the buildup of plaque and bacteria between your teeth, under your gums, and across your tongue.
Dry Mouth: Saliva plays a crucial role in washing away food particles and bacteria, keeping your mouth fresh. Dry mouth, often caused by medications or mouth breathing, can contribute to bad breath.
Gum Disease: Untreated periodontal disease can be a major cause of persistent bad breath.
Oral Infections: Active tooth decay, thrush, and infections such as abscesses, can produce foul-smelling odors.
Treating Bad Breath
If you're dealing with bad breath, there are several steps you can take to improve your oral hygiene and freshen your breath.
Use a Tongue Scraper and Floss Daily: Brush your teeth at least twice a day for two minutes, but don't forget to floss daily and clean your tongue, too!
Stay Hydrated: Drinking plenty of water helps keep your mouth moist and flushes away odor-causing bacteria.
Avoid Alcohol and Tobacco Products: Alcoholic beverages, smoking and using tobacco products can stain your teeth and dry out your mouth.
Regular Dental Visits: Professional cleanings and periodontal treatment address odorous bacteria at the source.
Schedule Your Visit Today
Don't let bad breath hold you back from enjoying a confident smile and fresh breath. Contact the Dental Care Center in Kennestone, Marietta, GA today!
Posted on behalf of Dental Care Center at Kennestone