Yes. You Can Stop Flossing
September 24, 2019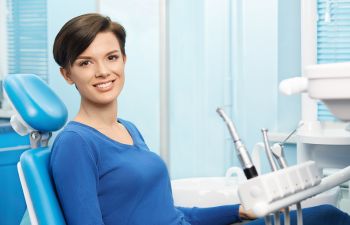 If you're one of the 9 out of 10 people who dislike flossing, you're in luck. There's a way to clean between your teeth (where brushing doesn't reach) without that skinny strand of floss. It's called a water flosser.
Research shows that using a water flosser may actually clean your teeth and gums better than conventional floss, reaching well below the gum pockets where periodontitis starts. If you've had gum disease in the past, our Marietta dentists may recommend using a water flosser since it's more efficient.
Yes, water flossers can be messy. Practice over the sink or opt for a version that you can use in the shower. As long as you're using it at least once a day, you can stop using traditional floss.
How to Use a Water Flosser
Depending on the model of water flosser that you have, you may be able to adjust the pressure of the stream of water. Start with a lower pressure and work your way up to steady flow of water. Most people prefer slightly warm water or lukewarm, to minimize sensitivity.
Place the tip of the flosser at the edges of your gums, slightly angled toward them to reach underneath the tissues. Gently trace around each tooth, pausing for a couple of seconds where the teeth meet one another. Floss the entire outside and inside of your upper and lower arches.
Is it Working?
When you visit our Marietta dentists for a checkup, we'll be able to tell if there's a difference in your gum health and plaque levels from your last cleaning appointment. The small investment could be just what your smile needed.
For more oral hygiene tips, visit the Marietta dentists at Dental Care Center at Kennestone.
Posted on behalf of Dental Care Center at Kennestone